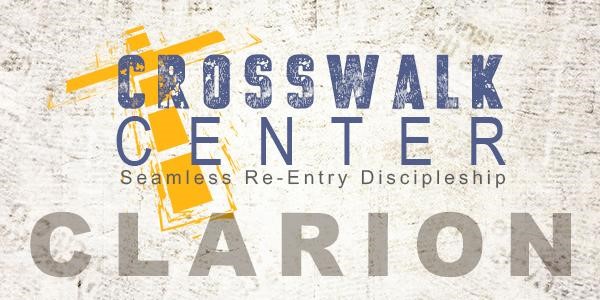 A Message from the Executive Director
Embarking Upon Our Seventh Year: September 1, 2022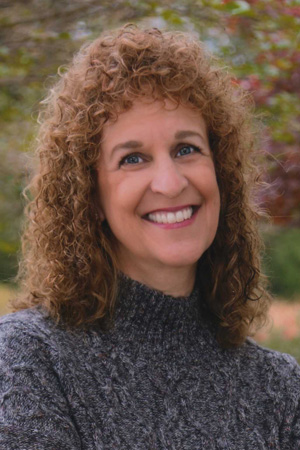 In Scripture, seven often symbolizes completion or perfection. The writer of the book of Genesis tells us that God created the heavens and the Earth in six days, and, upon completion, God rested on the seventh day (Genesis 1: 2:1-2).
The number seven also connotes concepts such as pardon and healing. Deuteronomy tells us that every seventh year, the Israelites were to cancel all the debts they had made with each other and free their slaves (Deuteronomy 15:1-2, 12). We further see that number's connection with exoneration when Peter asks Jesus how many times we are to forgive each other, and Jesus replies, "seventy times seven" (Matthew 18:21-22).
We often see the number seven frequently accompanying the fulfillment of promises or oaths. The Hebrew word for swearing an oath (shaba) and the Hebrew word for seven (sheba) both derive from the Hebrew word meaning satisfaction or fullness (saba). The Bible's extensive use of the number seven, in connection with such concepts as completion, exoneration, and the fulfillment of promises, suggests that God ascribes a sacred nature to the number.
As I look back over the past six years, I remain in awe of what God has done, is doing, and will do in and through everyone who is part of the CrossWalk Center family. It has been both a blessed and a sacred journey for me personally. It also has been for our disciples, as many CWC "graduates" have faithfully testified.
Although we see dawn on the horizon of our seventh year of Seamless Re-entry Discipleship, the ministry is not yet perfected or complete. The board and the staff continue to press into Jesus Christ, listening by faith to better work out Kingdom purposes in the world of re-entry. Each day brings many challenges and adversaries, but we continue to serve with joy in our calling. I often remind myself and the CWC team not to be weary in well-doing, as everything we do is as unto the Father.
We can stand firm on the promises from Father God that He will never leave us nor forsake us and that He loves us unconditionally. I envision He is having even grander plans and purposes for CrossWalk Center and our re-entry disciples in the coming years.
Kathy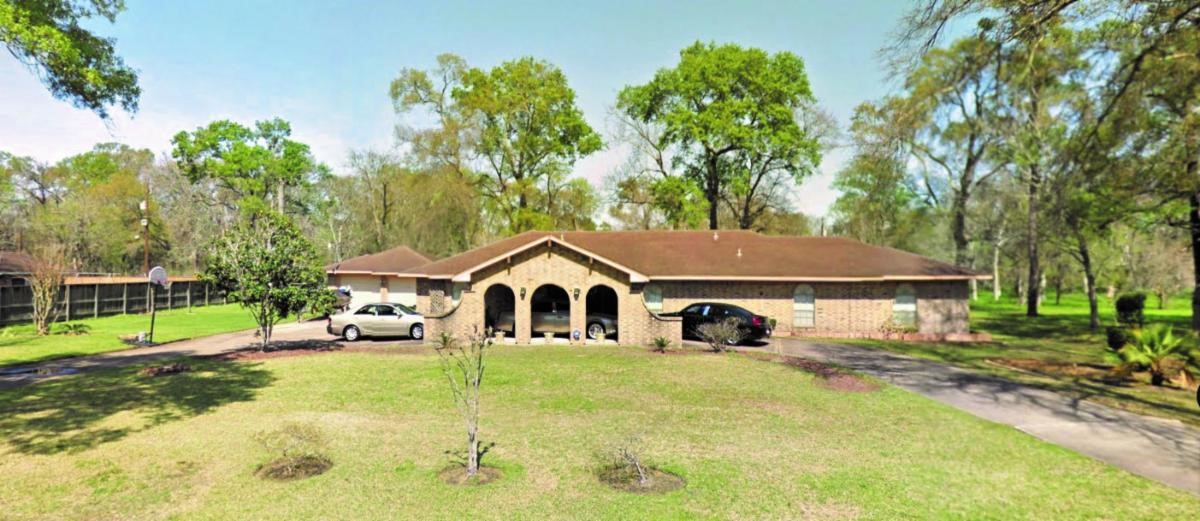 ROSEBURY HOME
This January we announced the purchase of a new men's home, to house an additional 15 men for a total of nearly 75.
Rosebury, our 5th men's home, officially opened in June, welcoming a new group of CWC men home!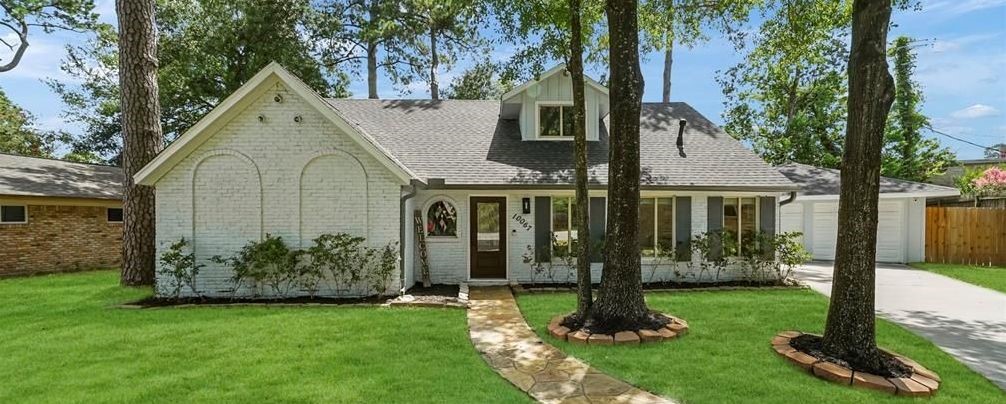 BRIARWILD HOME

This April you helped move us closer toward our goal of a CWC Women's Home.
The addition of Briarwild on Thursday, July 21st officially marks the launch of our very first home for women! 
Please join us for a day of Blessing and the home reveal on Friday, August 12th!
We look forward to welcoming 12 women into the home this August and September.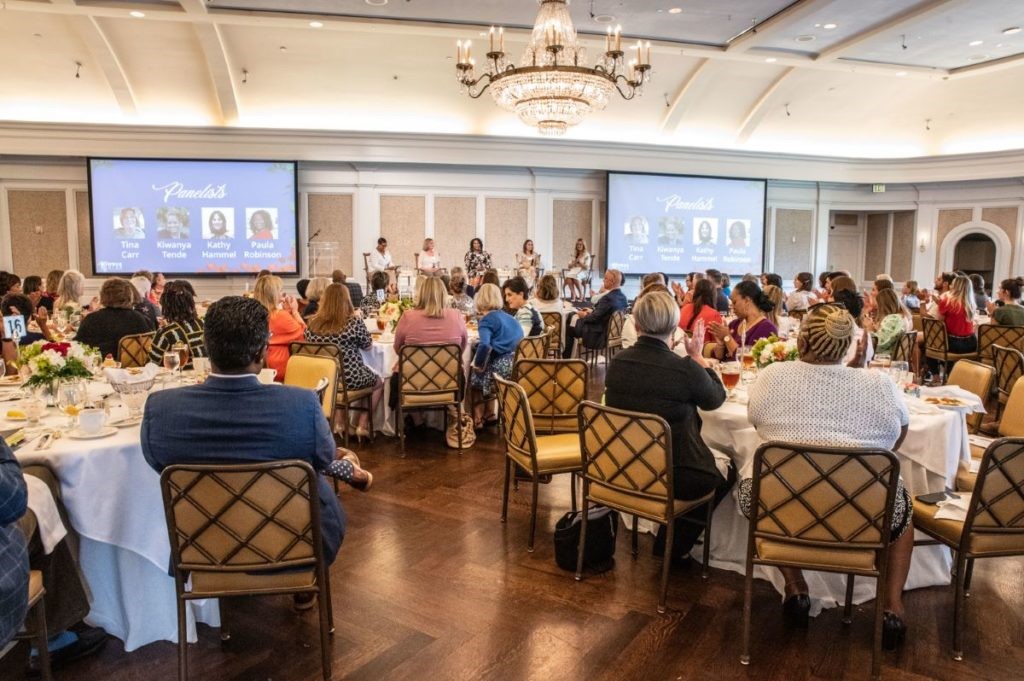 APRIL WOMEN'S LUNCHEON
The Beauty for Ashes luncheon on April 22nd was a beautiful way to share our mission, and the women's program is off to a great start, thanks to the generosity of so many.
Nearly 200 people joined us for this first-time and very special event! Proceeds supported not only the home, but also provided for the practical needs of the women who will be coming home to Briarwild soon.
See below for a brief event recap and visit the Events page to view the event photos.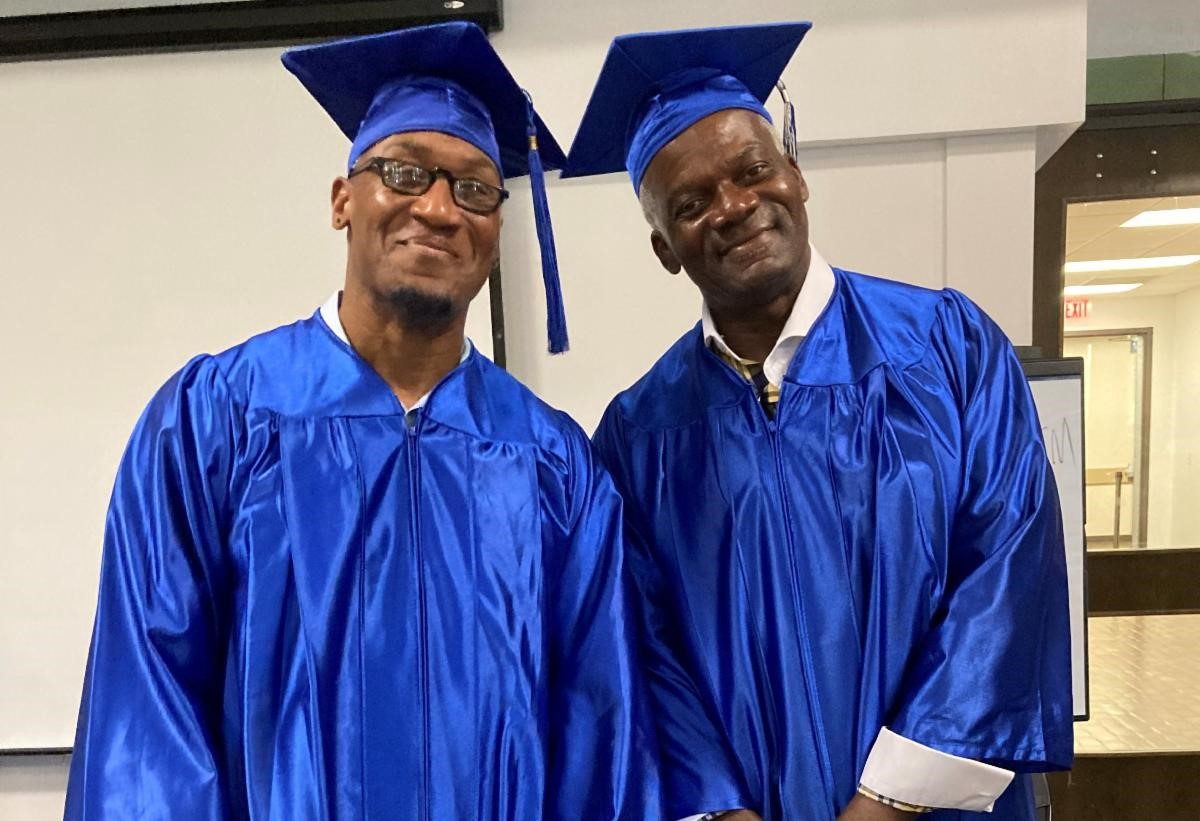 RE-ENTRY PARTNERSHIPS
CrossWalk Center recently partnered with the City of Houston's Re-entry Program. Working collaboratively with partners around the city plays an important and valuable role in each of our clients' journeys. Partners like the City of Houston, area churches, and other service orgnizations allow CrossWalk Center to enage and connect on a deeper level, walking through life transformations both external and inernal.
To learn more about our women's and men's programs, contact Paula Robinson or Ozie Owen.

You are cordially invited to the Rosebury/ Refined Technologies Open House!
Join us August 12th to take a tour, enjoy delicious snacks, and meet the men who have been impacted by both CrossWalk Center and RTI. This will also be a great time learn more about how the ministry serves the men and women who are released from the criminal justice system.
Please RSVP if you know you will attend (walk-ins also welcome).
Briarwild Blessing: Pray with us Friday morning for a very special home reveal!
"The Day of Blessing" at Briarwild will be a special day of preparing through prayer and unpacking. Finishing Touches, a CWC partner organization, will perform a complete home setup in a matter of hours. Join us in praying for the incoming residents and for the home as it is fully-furnished and decorated for their arrival!
Saturday, September 10, 2022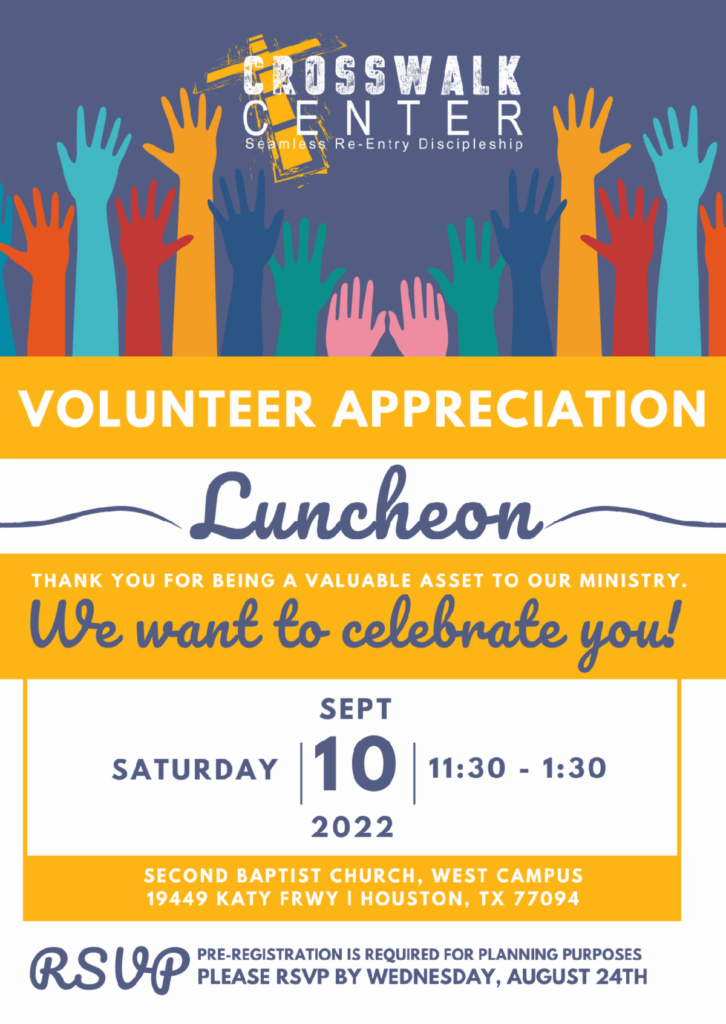 Mark Your Calendar for CrossWalk Center's First Volunteer Appreciation Luncheon!
Volunteers are an invaluable asset to our ministry. Without you, we would not be able to do what we do.
Luke 6:38 tells us:
"Give, and it will be given to you. A good measure, pressed down, shaken together, and running over, will be poured into your lap. For with the measure you use, it will be measured to you."
Giving comes in many forms and giving of your time within an organization that serves women and men being released from incarceration is not something we take lightly.
Please join us and allow us to honor the gifts of your time and energy that you have so graciously given us.
Saturday, September 10, 2022
11:30-1:30 PM
Second Baptist Church, West Campus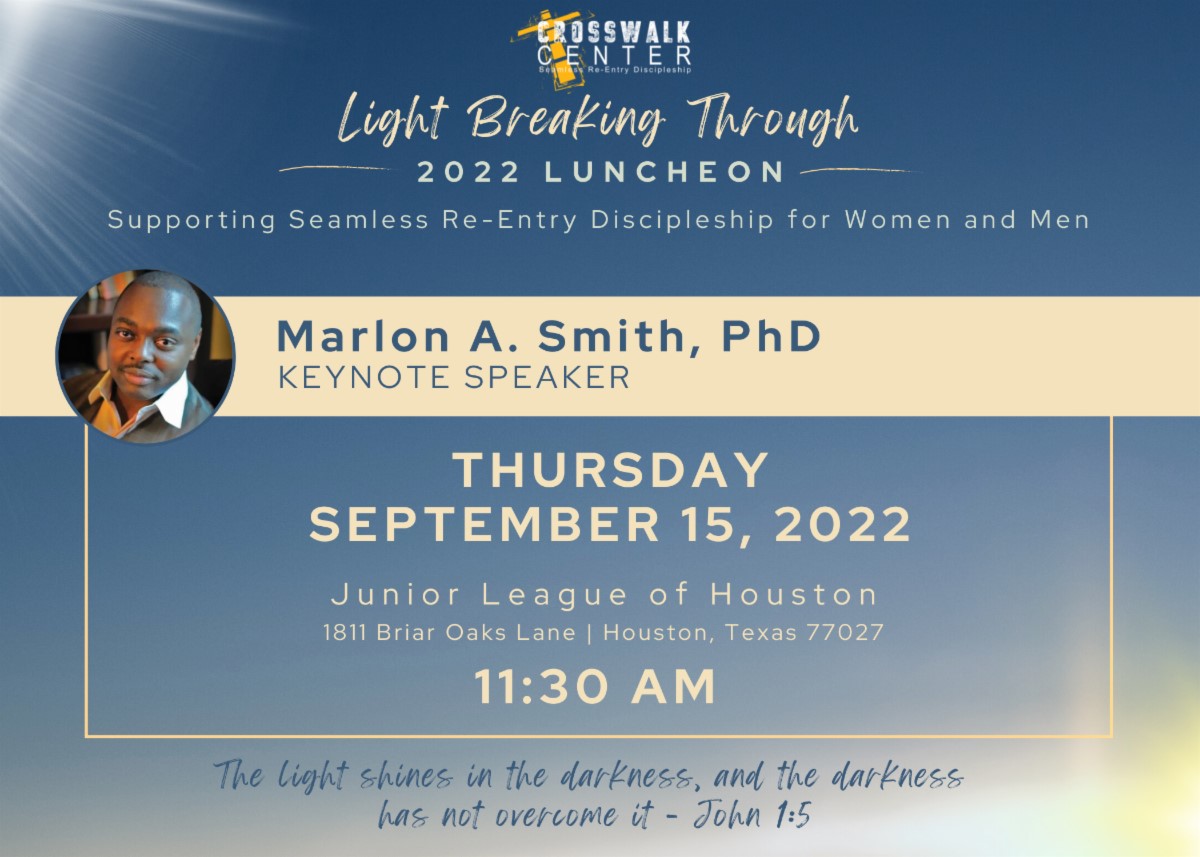 Thursday, September 15, 2022
Our Annual Fall Breakfast is Moving to Lunch!
We invite you to join us for a special luncheon celebrating the successful completion of our sixth year, and our many other recent and exciting milestones!
As CrossWalk Center's impact continues to break through barriers and be a light for many, our gratitute for your support continues to grow. We hope you will consider purchasing a table or tickets and inviting others to join us and learn more about CrossWalk Center.
Light Breaking Through
CrossWalk Center Fall Luncheon
Supporting Seamless Re-Entry Discipleship for Women and Men
September 15, 2022 | 11:30 AM
Junior League of Houston
1811 Briar Oaks Lane, Houston, Texas 77027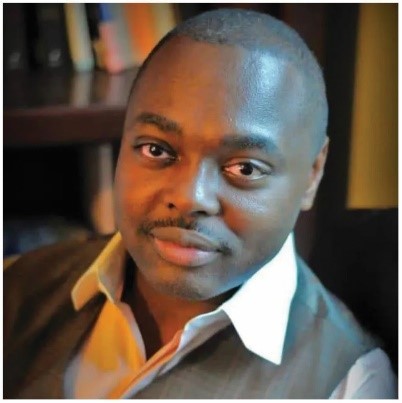 This fall's luncheon will feature friend-of-CWC and compelling keynote speaker, Dr. Marlon A. Smith. Dr. Smith is an author, activist, and community leader, centered in faith and theology. His experience and focus in advocating for system change for incarceration and re-entry will no doubt inspire and create a new sense of perspective for all of us. Recently appointed as the Chief Community Builder for The Women's Home of Houston, he continues to shine in building relationships and communities. Marlon's voice, at the intersection of faith and re-entry, is incredibly relevant and timely as the CWC men and women's programs continue to grow. A truly moving speaker, we look forward to hearing his story and seeing lives continue to be changed. Learn more about Dr. Smith here.
What's Happening At CrossWalk Center
CrossWalk Center Welcomes New Board Member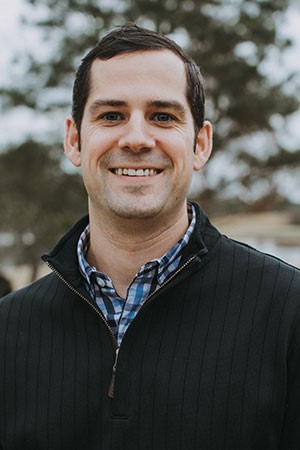 Jason Hofseth
Jason grew up in Alaska but migrated south to become a Texas Aggie. During his studies, he married his sweetheart, Rachel, then graduated from Texas A&M with a degree in Chemical Engineering. Jason met fellow board member Cody Nath and eventually joined the team at Refined Technologies (RTI). In his most recent role as Executive Vice President of Mechanical Jason has had the experience and pleasure to work directly with some of the CrossWalk Center's men. Learn more about Jason and his wonderful family here.
Return to In-person Programming
FINALLY FACE TO FACE!
On April 2nd we met face-to-face for our Coaches Training with 20 people in attendance. On May 14th, we had15 join for our Facilitators Training. We were excited to host both trainings, as they were our first return to in-person post-COVID.
LIFE RECOVERY GROUP
Because so many of our men have dealt with substance abuse issues in the past, a required Life Recovery Class is a part of our housing program for both men and women. During our recent Life Recovery Facilitators Training were able to coach and equip 15 volunteers to be facilitators in our houses. This was taught by Camilia Dugay, MS, LCDC, LMFTA, of Refined By Fire Counseling Services.
COACH REFRESHER COURSE
15 of our trained coaches also recently joined us for a Coach Refresher Course. Ths training focused on preparing for and leading Discipleship meetings in our homes. These home meetings and the fellowship that is built are part of what sets our CWC ministries apart and creates a lasting impact on the re-entry journey for our clients. This event was facilitated by Guy Caskey, Pastor of Missions and Movements with WoodsEdge Church. WoodsEdge Church is a fully-invested CrossWalk Partner who has been instrumental in taking us to the next level in Discipleship for our men and women.
We are grateful to WoodsEdge and our many church partners whose partnership allows us to continue to grow our programs and develop our volunteers, coaches, and facilitators.
Upcoming Program Trainings
Do you feel called to disciple others and help transform lives from the inside out? If so, we would love to have you serve as a volunteer, coach or facilitator. Whether you're just starting your volunteer journey or feeling called to be involved at a deeper level, our training programs are here to support you.
Save the Date for These Upcoming Training Sessions:
CWC Facilitator Training - Saturday, September 17
CWC Coaches Training- Saturday, October 1
TDCJ Volunteer Training - Saturday, October 8
All Trainings will be held at CrossWalk Center:
2103 N. Main Street, 2nd Floor, Houston, TX 77009
Please feel free to pass the word along to any friends, family, or even churches who may be interested in partnership with CWC.
For more information, click the Program Training link on the CWC website or reach out to Kiwanya Tende, head of CWC Volunteer Programs & Services at 281-810-3316 or kiwanya.tende@crosswalkcenter.org.
Beauty for Ashes Women's Luncheon - April 2022
Dear Friends,
It is with sincere gratitude and a full heart that I thank you for supporting CrossWalk Center's newly launched Women's Seamless Re-entry Discipleship Program.
The Beauty for Ashes luncheon on April 22nd was a beautiful way to share our mission, and we are off to a great start, thanks to the generosity of so many.
Blessings,
Ann Lawnin
2022 Beauty for Ashes Luncheon Chairwoman
Every Contribution Counts!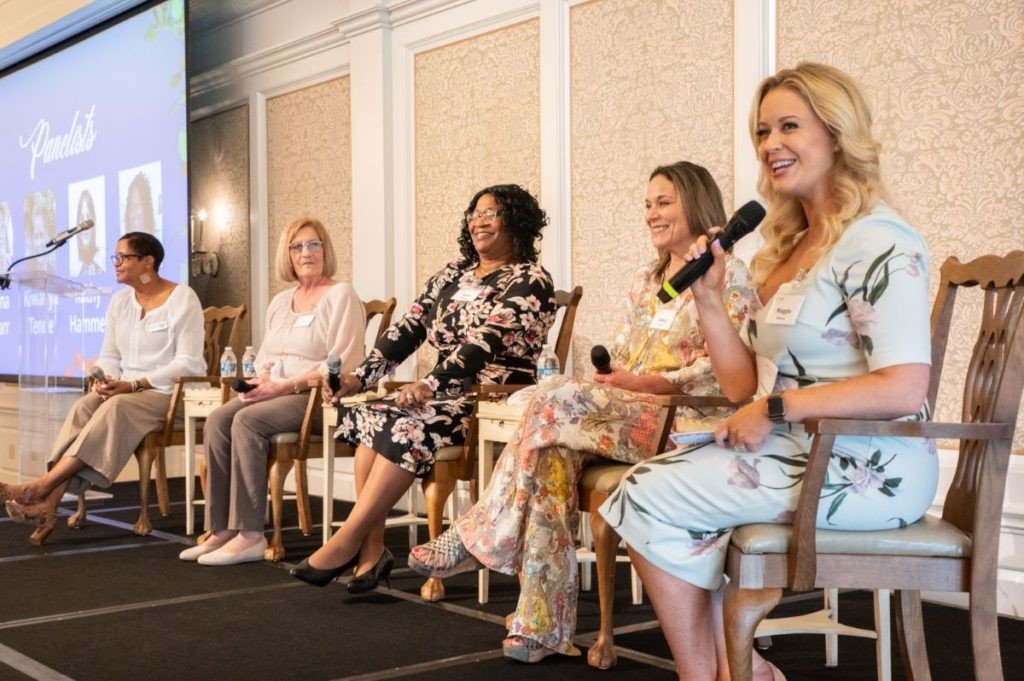 Whether or not you were able to attend the Luncheon, I hope that you will prayerfully consider sharing with others and joining us in our campaign to meet our Women's Program goal.
Our annual budget for our first women's home, which will serve 10-15 women, is approximately $250,000.
We are so close! Please consider joining us on September 15th for our next event, or making a donation any time at crosswalkcenter.org/give.
Gratitude and Impact
The overwhelming show of love and support was and still is amazing. My prayer was that God would fill the room with His People and His Presence! And YOU showed up! Thank you to everyone who came, supported, and prayed for the Women of Crosswalk.
~ Paula Robinson, Director of Women's Ministry and Featured Luncheon Panelist
Become a Friend of CrossWalk
We are inviting you to invest yourself through the resources that God has given you - your energy, your prayers, and your money - in this work to which God has called us.
By joining our Monthly Giving Program, your gift will allow us to take a planned, long-term approach to grow our Seamless Re-Entry Discipleship from the inside out.
Recurring, monthly giving means low administration costs with more of your gift going to where it is needed most...to our returning citizens. We will be able to grow CrossWalk Center's re-entry discipleship ministry, expand our reach, and widen our impact.
The successful re-entry journey begins here!
Thank you for supporting our efforts and helping make a difference.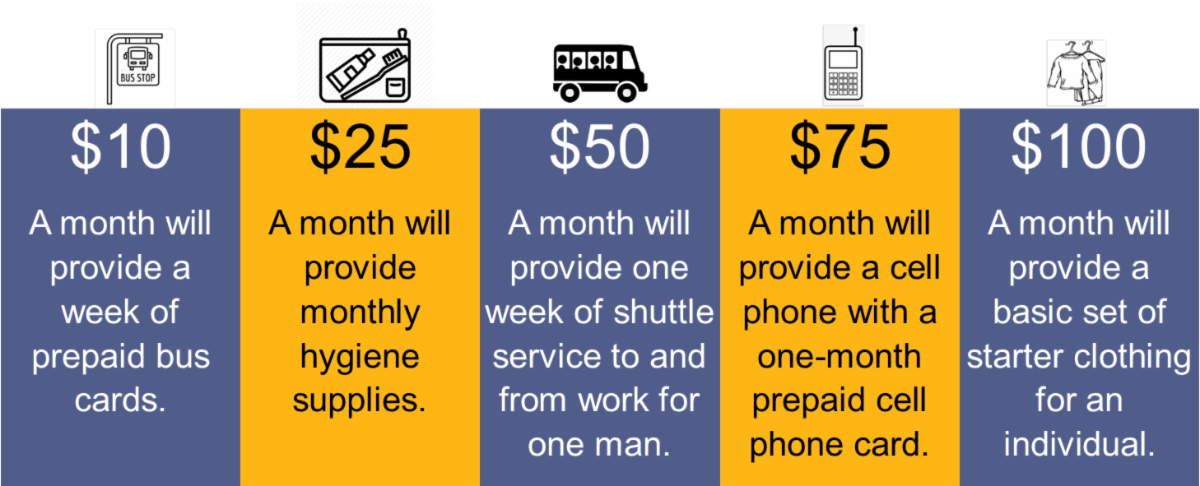 Intercessory Prayer Requests
God has established His kingdom on earth in such a way that we must ask for help. We ask the Lord for help, and now we're asking you for help. Our men need your prayers, as they experience re-entry into society. Please pray for God to grant our men confidence, peace, security, wisdom, and strength as they journey in freedom. Please keep the men of CrossWalk in your prayers.
Jason Andres
Claborne Andrews
Justin Brookshire
Devon Burgess
Robin Carter
Luis Contreras
Leonard Demmings
Wilfred Gaiter
Rodney Guidry
Leonard Harden
Christopher Lee
Javon Lowry
Victor Martinez
Chad McCardell
Patrick Murphy
Robert Ned
Vernon Parker
Joe Ramos
Jesse Rodriguez
Mario Rogers
Levis Sampson
Mario Sinclair
Roy Sledge
Andrew Spearman
Tyrone Stafford
George Strickland
Claude Thomas
Levelle Watson
Your Generous Giving Impacts Lives.
CrossWalk Center re-entry programs and services, and the generosity of faithful givers like you provide returning citizens a second chance, increases public safety, reduces taxpayer costs, and prevent individuals from returning to a life in prison.
Acts of Service and Generosity in a Modern World:
What Your 'Like' and 'Share' Means to CWC
In this era of social media saturation, it's easy to get distracted in the sea of scrolling. However, we all know that feeling when we see a post or video that makes us pause. Whether it's laughter or tears (or sometimes both), the stories that impact us most usually come from someone we know - from people who share our values and care about the same causes we do.
Your 'like' and 'share' go farther than you know! We invite and earnestly ask you to follow and engage with CWC on social media. Each time you double-tap, repost, or comment, our reach goes a little farther. When you show your support for CrossWalk Center, it gently invites other people to learn more and builds our reputation as a cause worth pausing for. You never know who might need to hear our message of hope, or who might be looking for the right place to give and create an impact. Thanks for scrolling our way.
Not a Social Media buff? Consider instead sharing our emails with someone you think might be interested to receive our news, updates, and event invitations, or could use some good news in their inbox.
"Blessed are the pure in heart,
for they shall see God."
- The Beatitudes
CrossWalk Center, Inc., is a tax exempt 501(c)(3) charitable organization.