The Journey to Successful and Sustainable Re-entry Begins Here
The goal of CrossWalk Center is to serve as the safe, centralized re-entry hub of social services and faith-based ministries for returning citizens and their families. By connecting regional service providers and faith-based ministries in our re-entry network, under one roof, in an undisbursed, more efficient and cohesive manner, CrossWalk Center is reducing confusion and inefficiencies in the re-entry process.
CrossWalk Center, a non-profit 501 (c) (3), is a Christ-centered, "faith driven" organization and mission-driven community. The board, staff, donors, coaches, volunteers and key partners all believe they've been called to coalesce, in order to express and bring unity among social service providers, governments, para-church organizations, and churches, through Jesus Christ, in order to better serve re-entering citizens.
The Regional Realities of Re-entry. Every day, five days a week, 245 days a year, at around 2 pm, 50 or so of the approximately 20,000 individuals released annually from Texas Department of Criminal Justice prisons and state jails, arrive by public Greyhound bus and get off at Houston's Midtown bus terminal.
Having been isolated from society and the ever-changing world for a number of years, many returning citizens lack the basic knowledge of what to do upon release. They do not know where to go or who to trust and turn to next. They do not know how to access, much less how to find and navigate all the regional service providers and ministries that could assist and enable them to transition and reintegrate successfully back into Houston communities and neighborhoods.
Logistically, Houston is a challenging city for anyone to navigate. The city is not only initially overwhelming and frightening for many returning citizens to get around in, but also nearly impossible because many return to Houston with no money, no job, and basically no means of financial support. It even becomes more difficult when they have no identification, no transportation and oftentimes no family willing to help, or a safe home to return to.
welcoming • serving • coaching • mentoring • giving hope for the future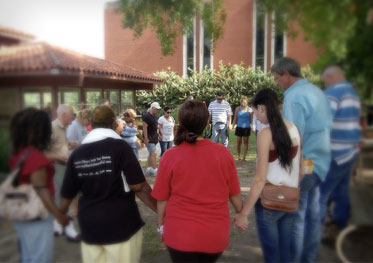 I was hungry and you fed me,
I was thirsty and you gave me a drink,
I was homeless and you gave me a room,
I was shivering and you gave me clothes,
I was sick and you stopped to visit,
I was in prison and you came to me.
- Matthew 25:35-36