The Journey to Successful and Sustainable Re-entry Begins Here
Men who have been imprisoned face tremendous challenges as they try to reintegrate back into society.
Returning citizens need advocates, guides, and encouraging re-entry coaches to walk alongside them upon release from prison and as they re-enter, transitioning to live out their faith in freedom.
CrossWalk Center bridges critical social services and discipleship ministry between prison life and freedom.
We offer hope and a future apart from broken prison life to whole-hearted intentional living as the unique individuals God originally created and intended them to be.
The Regional Realities of Re-entry. Every day, five days a week, 245 days a year, at around 2 pm, 50 or so of the approximately 20,000 individuals released annually from Texas Department of Criminal Justice prisons and state jails, arrive by public Greyhound bus and get off at Houston's Midtown bus terminal.
Having been isolated from society and the ever-changing world for a number of years, many returning citizens lack the basic knowledge of what to do upon release. They do not know where to go or who to trust and turn to next. They do not know how to access, much less how to find and navigate all the regional service providers and ministries that could assist and enable them to transition and reintegrate successfully back into Houston communities and neighborhoods.
Logistically, Houston is a challenging city for anyone to navigate. The city is not only initially overwhelming and frightening for many returning citizens to get around in, but also nearly impossible because many return to Houston with no money, no job, and basically no means of financial support. It even becomes more difficult when they have no identification, no transportation and oftentimes no family willing to help, or a safe home to return to.
welcoming • serving • coaching • mentoring • giving hope for the future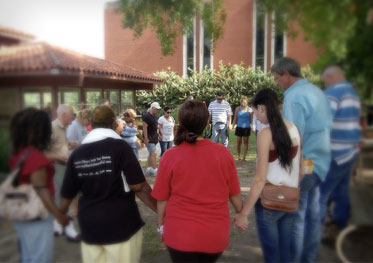 I was hungry and you fed me,
I was thirsty and you gave me a drink,
I was homeless and you gave me a room,
I was shivering and you gave me clothes,
I was sick and you stopped to visit,
I was in prison and you came to me.
- Matthew 25:35-36